Massachusetts is known for its progressive cannabis laws, but 2018 was a milestone year for the state's legal marijuana industry. The nearly $3 billion industry saw an unprecedented amount of growth and development in Massachusetts over the past 12 months. Regulators expect to see continued innovation from this new market and are eager to learn more about what happened during last year's sales period-and what might happen next.,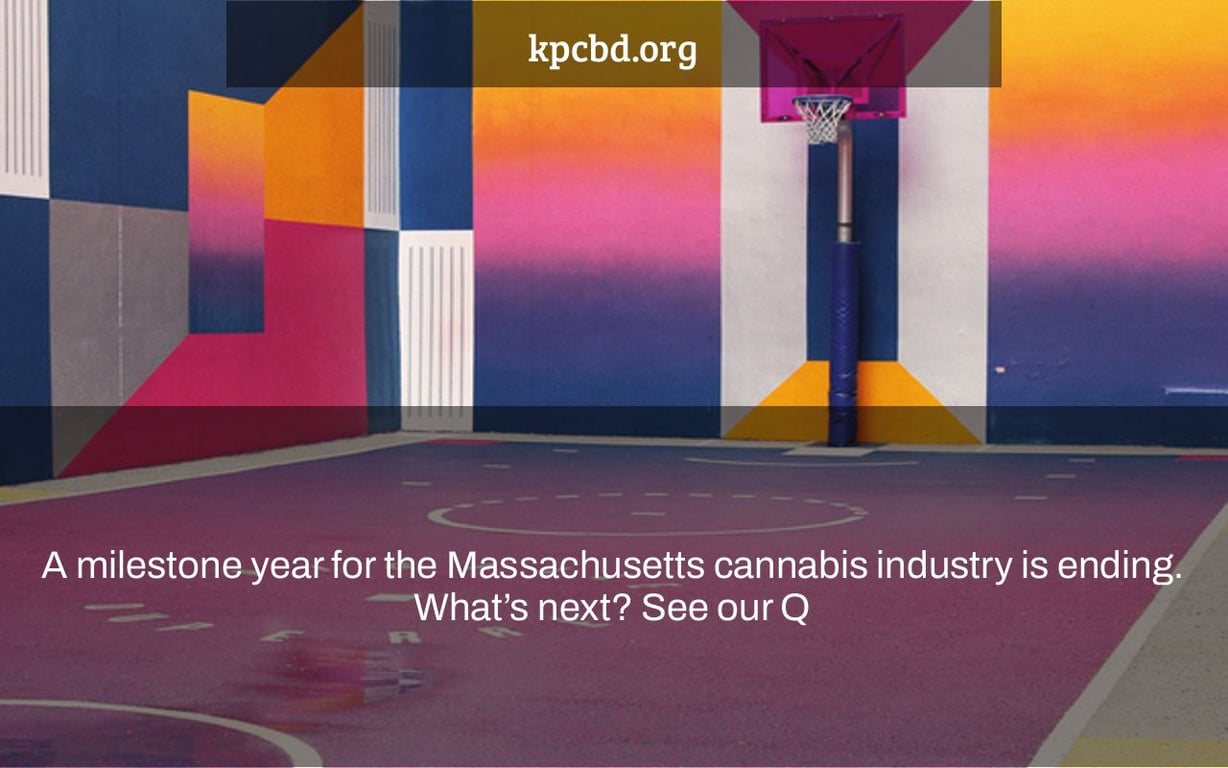 Home delivery of cannabis began in Massachusetts in 2021, as the state's cannabis sector topped $2 billion in revenue sales and celebrated its fifth anniversary of recreational legalization.
Despite these achievements, the sector still has opportunity to develop and become more egalitarian. Entrepreneurs see the host community agreement procedure as a big hurdle. Despite the fact that many people have lobbied for an equity fund or a grant program, such funds are currently unavailable. Cannabis delivery firms have been lobbying for a revision to the two-driver restriction in delivery trucks, claiming that it prevents them from making a profit.
Then there's the issue of stigma. Despite the fact that cannabis stores have sprung up all across the state, some people still have a negative image of the plant.
MassLive posed questions to the state Cannabis Control Commission on the industry's accomplishments so far, a forthcoming law, and forecasts for the future. The five commissioners, as well as Shawn Collins, Executive Director, had the following to say:
Executive Director Shawn Collins
Q: In Massachusetts, recreational cannabis has been legal for five years, and retail outlets have been open for three. What have been your greatest achievements thus far?
A: Looking back over the past several years, I believe Massachusetts can be proud of how we built an agency while also migrating and establishing a new regulated business when neither existed before. We built a fully regulated marketplace when retail sales initially began three years ago, which was not usual in other jurisdictions that legalized at the same time or after Massachusetts. All aspects of a licensed supply chain, quality control testing, and seed-to-sale monitoring were incorporated.
Overall, our agency has evolved from the first five Commissioners, who went to work without staff or desks, to become a model agency for other legalizing states in terms of our sustained emphasis on equity programming, public health and safety preservation, innovative government that is both responsive and open-minded with its data, and robust and honest research. Our greatest achievement, in my view, is that we have worked hard to create an agency and an industry that Massachusetts can be proud of.
Q: What are your industry projections and aspirations for the next five years?
A: My aim is that over the next five years, the playing field becomes a bit more fair, and those who want to create a marijuana establishment may find a more feasible route. Cannabis has yet to be classified as a "small company" in the same way that other downtown staples like taverns, restaurants, and conventional retail stores have. This is due to a number of circumstances, including a scarcity of cash, harsh tax consequences, and the high cost of regulatory compliance. All of these are significant obstacles that are difficult to overcome in the present legal climate. Overcoming these obstacles will require time, political will and bravery, and a network of champions who see the importance and potential of this new business. It was just five years ago that a similar method in Massachusetts led to the first legalization of marijuana, so there is reason to be hopeful for future progress.
Steven J. Hoffman, Chairman
Q: In Massachusetts, recreational cannabis has been legal for five years, and retail outlets have been open for three. What have been your greatest achievements thus far?
The Commission's flawless start-up and growth of the regulated business has been the Commonwealth's best achievement to date. Marijuana establishments have effectively contributed to economic growth for numerous towns around the state while safeguarding public health and safety, according to a new survey in which 61 percent of respondents believe legalization has had a good influence on Massachusetts. In addition, licensees have produced over $600 million in new tax income for the state and its cities and municipalities. Most significantly, the regulated marketplace has produced major employment and entrepreneurial possibilities for a broad and worthy set of citizens, including licensed enterprises as well as auxiliary service providers such as construction and HVAC installation.
A: How do you believe we can further remove the stigma associated with cannabis use?
Despite the fact that Massachusetts legalized medicinal marijuana in 2012 and adult-use marijuana in 2016, there is still a persistent stigma that cannot be eradicated via legislation or regulation. Although we recognize that success takes time, individuals throughout the state are seeing the expansion of competently operated enterprises that contribute to the well-being of their host communities and towns. The fact that a legal business, which is well supervised by the Commission, has functioned without creating any of the negative public health and safety consequences that opponents anticipated has also helped to reduce the stigma. I predict greater improvement as the industry matures, but I also know that federal legalization will be required to remove the stigma that still exists.
Nurys Camargo, Commissioner
Q: What is the most significant impediment to obtaining a cannabis license in Massachusetts? What might the commission do to alleviate this burden?
A: The main barrier to engaging in this market, based on my experience listening to constituent input and monitoring licensees, is access to finance. Marijuana enterprises are not eligible for small business loans, grants, or other assistance provided to other kinds of businesses. In many situations, this has fostered predatory lending, resulted in a lack of diversity and inclusion in the economy, and, most crucially, prohibited those who had been affected by prohibition from participating now that marijuana is legal, as required by state law.
Another key stumbling block for license applicants is securing a Host Community Agreement (HCA) from a city or municipality in order to establish a business site. Equitable municipal rules must be a component of the local licensing process, which is why political openness and education are critical. By overcoming these two fundamental roadblocks, the sector will become more egalitarian in compliance with state legislation. The Cannabis Control Commission (Commission) has established a training program, offered reduced fees and expedited licensing review, carved out certain license types, and required all licensees to incorporate plans for diverse hiring practices and to support disproportionately impacted communities – all with the goal of providing license applicants with resources to help them overcome some of the remaining obstacles.
To remove the continued stigma associated with medicinal and adult-use cannabis, the Commission will continue to educate members of the public about the safe, legal, and regulated business that currently exists. To that purpose, the Commission's public awareness program, MoreAboutMJ.org, offers tools to the public that promote responsible adult cannabis usage while preventing underage use. However, in addition to federal legislation, properly normalizing cannabis will need both public and private participation.
Q: What are your industry projections and aspirations for the next five years?
Before the legislative session concludes in 2022, I hope Massachusetts establishes a viable Social Equity Fund to assist license applicants who have been affected by earlier marijuana prohibition. We all know that the Massachusetts Legislature created history by becoming the first in the country to require disproportionately disadvantaged applicants to participate fully in the legal business and to assure equality. However, when it comes to providing access to money for Social Equity Program participants and Economic Empowerment Applicants, we have lagged behind.
The Commission was deliberate in creating policies to lower barriers to entry into the adult-use industry, such as avoiding a statewide license cap, ensuring that adult-use licenses are not required to be vertically integrated to make them more accessible to applicants with less capital, and requiring all licensees to implement Plans to Positively Impact Disproportionately Harmed Communities and Diversity Plans to ensure inclusivity in their business operations, to name a few. The Commission granted Economic Empowerment status to 122 license applicants and established the nation's first Social Equity Program to provide free technical assistance to more than 400 qualified applicants—two programs that provide benefits such as the ability to skip our license queue, pay lower fees, and apply for delivery and social consumption licenses years before other general applicants. These potential firms have previously utilized many of the tools available to them, but a Social Equity Fund will help them get to the finish line.
My prediction is that what we now refer to as "ancillary" service providers—those who do not require a license to operate in the regulated industry but provide support to licensed Marijuana Establishments and Medical Marijuana Treatment Centers—will fully develop into another avenue for disadvantaged businesses to participate in the cannabis ecosystem in Massachusetts through our equity mandate, resulting in a more inclusive cannabis ecosystem. Experts in horticulture, energy and efficiency, security, IT, printing, packaging, and other new business solutions, for example, are all required to guarantee that this sector operates safely, efficiently, and fairly. Every month, my colleagues and I look for creative Diversity Plans and Positive Impact Plans from licensees, and companies may also comply with our laws by employing diverse contractors who represent disproportionately disadvantaged populations.
Ava Callender Concepcion, Commissioner
Q: Governor Charlie Baker has reintroduced legislation that would treat marijuana and alcohol equally in instances of driving while intoxicated. Do you agree with the bill?
A: I'm still going through the Governor's bill. However, any legislation that aims to regulate how law enforcement and the justice system interact with cannabis users must be rigorously reviewed for any unintended consequences on groups that have been disproportionately imprisoned and jailed as a result of the War on Drugs.
Q: How do you believe we can further remove the stigma associated with cannabis use?
A: Recognizing cannabis enterprises as legitimate businesses has a significant influence on lowering the stigma associated with the legal, regulated cannabis sector and cannabis usage in general. In the Commonwealth, there are already seven approved delivery businesses: six marijuana couriers and one microbusiness with a delivery endorsement. Every month, we see a number of couriers and delivery companies advance through the Commission's licensing procedure. I believe that expanding delivery across Massachusetts will go a long way toward demonstrating to the public that regulated cannabis businesses contribute positively to their communities and that legal cannabis products can be delivered safely to their front door – just like any other product they might buy.
Commissioner Kimberly Roy is a woman with a lot of experience.
Q: Governor Charlie Baker has reintroduced legislation that would treat marijuana and alcohol equally in instances of driving while intoxicated. Do you agree with the bill?
A: Yes, I completely endorse the Baker/Polito Administration's recent re-filing of the Thomas L. Clardy Bill. MGL c.94G, Regulation of the Use and Distribution of Marijuana Not Medically Prescribed, was approved by the legislature four years ago. Licensees have raked in more than $2.3 billion in sales and millions in tax income since then. Unfortunately, public safety legislation have not kept pace with public policy over cannabis legalization and its potential to impair drivers.
Massachusetts State Trooper Thomas L. Clardy is honored in the measure submitted by the Administration. On the Massachusetts Turnpike near Charlton on March 16, 2016, Trooper Clardy was conducting a traffic stop when his stopped cruiser was struck by a speeding vehicle who veered across three lanes of traffic. THC, the euphoric element in marijuana, was found in the motorist's blood, an avoidable crime that resulted in Trooper Clardy's early death. He is left by his wife and six children. He served in the state police for eleven years and was a US Marine Corps veteran.
The Clardy Bill, which was first introduced in 2019, is based on the findings and recommendations of the Special Commission on Operating Under the Influence and Impaired Driving, a diverse group of experts tasked in 2017 with researching the regulation and testing of operating under the influence of marijuana, narcotic drugs, and depressant or stimulant substances. The bill includes provisions to expand Municipal Police and Drug Recognition Expert training, develop educational materials and programming on drug impairment to share with trial court judges, adopt implied consent laws, and authorize the courts to take judicial notice surrounding THC and driving impaired, among other things.
It's simple: no one can drive safely while under the influence of any drug that impairs judgment. THC impacts coordination, judgment, and balance, according to the Centers for Disease Control and Prevention – qualities that every driver needs to drive safely. The time has come for the Legislature to enact the Trooper Thomas L. Clardy Bill in order to avoid future tragedies.
Q: What do you think the commission's top focus will be in the next year or two?
A: As the Commissioner in charge of our agency's public health division, communicating with residents on these problems will always be at the forefront of my present and future goals. In addition, the Commission continues to consider ways to guarantee that communities who were disproportionately disadvantaged by earlier cannabis prohibition may fully participate in the cannabis sector.
We will continue to emphasize regulating companies in a safe, equitable, and effective manner as our marketplace develops and evolves, while putting public health, wellness, and safety at the forefront. The Commission is dedicated to upholding our mission statement, fulfilling legislative obligations, and ensuring that licensees respect Massachusetts' adult and medicinal marijuana legislation.
Bruce Stebbins, Commissioner
Q: What is the most significant impediment to obtaining a cannabis license in Massachusetts? What might the commission do to alleviate this burden?
A: The most significant impediment to small enterprises getting a Marijuana Establishment license is a lack of finance. Inadequate finance may cause entities' attempts to start a company to halt, or expose them to predatory loan offers that prohibit them from reaping the full advantages of this newly permitted sector. The Commission will continue to push for a state-managed Social Equity Fund composed of public and private resources, similar to mechanisms being implemented in other states, and will continue to review stages in our licensing process that may create undue delays. We'll also keep improving our guidance publications so that applicants know what to anticipate from the Commission throughout the application and licensing process.
Q: What do you think the commission's top focus will be in the next year or two?
A: As the cannabis sector in Massachusetts grows, the Commission will need to retain sufficient resources to conduct fair and appropriate monitoring. To support the safe, accessible, and fair marketplace that voters authorized in 2016, our agency needs the resources to investigate, monitor, and verify regulatory compliance of all licensees, which has grown dramatically in the previous year.
We'll also keep supporting efforts that encourage diversity in the business and allow individuals who were disproportionately harmed by the prior War on Drugs to fully engage now that cannabis is legal. All licensees are obliged to participate in solutions that promote the Commission's commitment to ensuring diversity in this field, and Diversity Plans and Positive Impact Plans are only two examples.