Democrats in Congress have called on Vice President Joe Biden to boost U.S. climate goals and help reduce carbon emissions following a report that his administration has been slowing progress at the United Nations agency tasked with influencing business practices globally.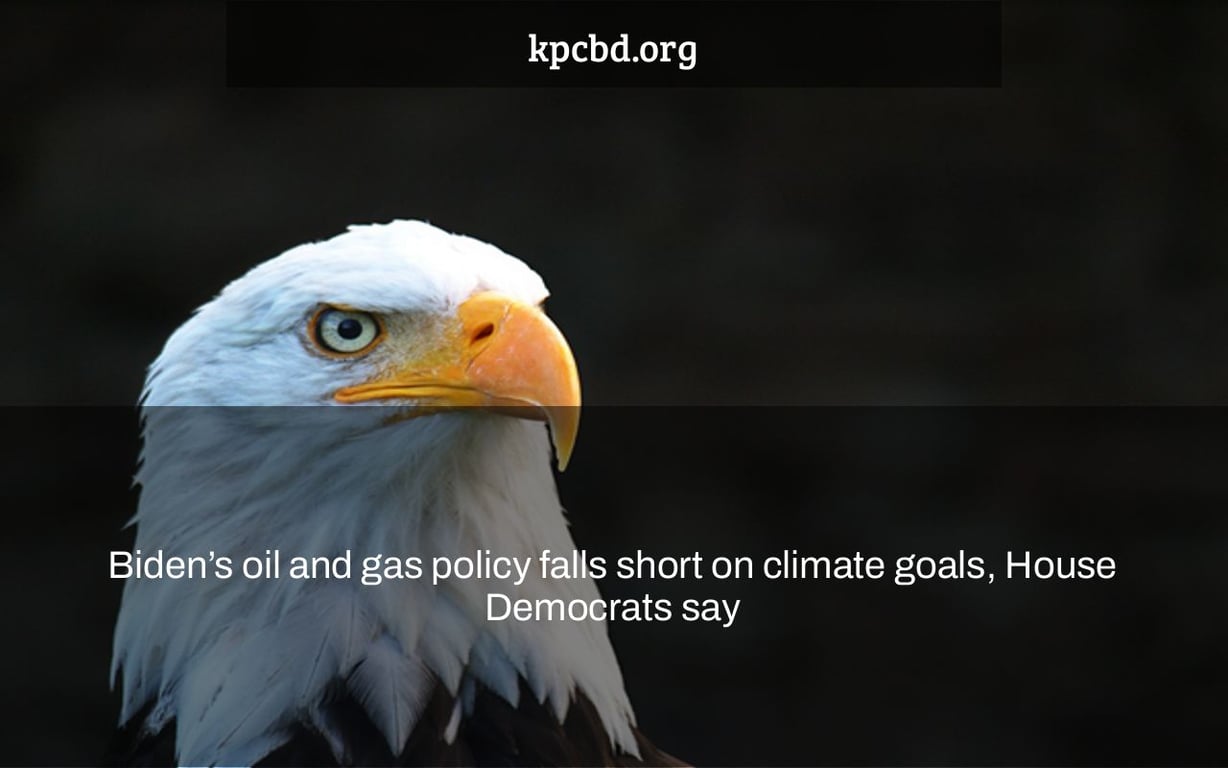 Republicans claimed lowering local production would just boost global emissions from international suppliers, while Democrats on the House Natural Resources Committee urged President Joe Biden to take more measures to curb oil and gas output.
Democrats said the administration left a critical gap in efforts to meet Biden's climate commitments in a hearing less than a week after the US Interior Department released a report calling for fiscal updates to federal oil and gas leasing programs but offering little to lessen the industry's climate impacts.
The recommendations, which include hiking royalties and bonding rates, were welcomed but inadequate, according to Rep. Alan Lowenthal, a California Democrat who leads the Energy and Mineral Resources Subcommittee.
"These adjustments have been long overdue," stated Lowenthal. "However, any mention of the emissions that occur from oil and gas extraction on public lands was conspicuously absent from the study." This was a squandered opportunity, in my opinion, and it is a significant problem that we must address."
According to Lowenthal, the report's proposals are "modest adjustments" that would not put the US on track to achieve its climate commitments.
He and full committee Chairman Raul Grijalva (D-Ariz.) both said that the administration might utilize its current authorities to decrease emissions from federal lands more drastically.
Environmentalists have urged Biden to make oil and gas leasing illegal on federal lands indefinitely, arguing that it is a critical step toward the administration's high climate objectives.
"When I see actions like the Department of Interior taking steps to lease more public lands to oil and gas, I can't help but feel misled, disheartened, and disappointed," Jade Begay, the climate justice campaign director with the Native American advocacy group NDN Collective and a member of the White House Environmental Justice Advisory Council, testified at the hearing.
While the investigation was pending, the Biden administration halted new leases on public lands, but in June, a federal court in Louisiana ordered the government to resume the program.
Republicans on the panel were overwhelmingly opposed to Democratic proposals to reduce energy production on federal lands.
They said that abandoning local production would result in increasing development from OPEC members, Russia, and other nations with less severe environmental regulations.
Republicans warn against acting in a "unilateral" manner.
According to Nick Loris, vice president of public policy with the Conservative Coalition for Climate Solutions, a group that advocates for market climate strategies, declines in US fossil fuel production would likely be replaced in the global market by OPEC oil, Russian natural gas, and coal from other countries.
"I'm still perplexed as to why certain members of this panel advocate—or claim to advocate—for a clean energy future while pushing policies that increase global emissions," Rep. Garret Graves (R-La.) remarked.
Republicans minimized the potential for reduced oil and gas production on federal lands to have a climate effect, claiming that other global causes were more relevant.
Democrats' requests for less development on federal lands, "no matter how much they trash home oil and gas production, America is not the issue," said the panel's leading Republican, Pete Stauber of Minnesota.
Rep. Bruce Westerman of Arkansas, the top Republican on the entire committee, said, "We can't have that great of an influence simply by altering what we do here at home."
Tom Tiffany of Wisconsin questioned Begay about China's vows to decrease oil and gas development announced at the United Nations Climate Conference last month, meaning that any steps taken by the United States to cut emissions would be matched by the world's second-largest economy.
He subsequently said, "America unilaterally disarming in relation to energy independence would lead to our collapse."
Democrats, on the other hand, felt that US leadership was critical to international action.
"We need to get our own house in order to lead in the world," Grijalva remarked. "Managing and lowering greenhouse gas emissions in our public lands and waterways is part of this."
New Mexico is in the spotlight.
Much of the discussion centered on New Mexico, which is the second-largest crude oil production behind Texas.
State Senator Carrie Hamblen, a Democrat who also serves as the president of the Las Cruces Green Chamber of Commerce, argued before a congressional committee that New Mexico is unduly dependent on fossil fuel revenues.
Because of the fluctuating nature of the market, Erik Schlenker-Goodrich, a veteran New Mexico environmentalist and executive director of the conservation charity Western Environmental Law Center, characterized the state's reliance on oil and gas income a "rollercoaster."
According to Stauber, oil and gas tax money is a key source of financing for education, conservation, and medical initiatives in the state. According to a February industry report, the business accounted for one-third of all state revenues in the previous fiscal year, including $1.3 billion for public education and institutions.
Stauber's claim on the industry's contributions to the state budget was corroborated by Hamblen, who called for "a serious dialogue about economic diversity." She noted the state has begun to diversify its income sources, including the recently authorized sale of marijuana.
She went on to say that recreational usage of public lands would be another economic advantage, and that more renewable energy generation on public lands would be a good thing.
"There's no doubting the oil and gas sector has backed a lot of causes," Hamblen said. "What we need to do now is maintain that pace of diversifying income sources, which we're already doing in New Mexico."