Cannabis retailers are in the midst of a contentious battle over how to regulate themselves as recreational marijuana becomes legal. Crystal Cure is looking to make New Brunswick's cannabis industry one that will be accepted by communities across Canada and beyond.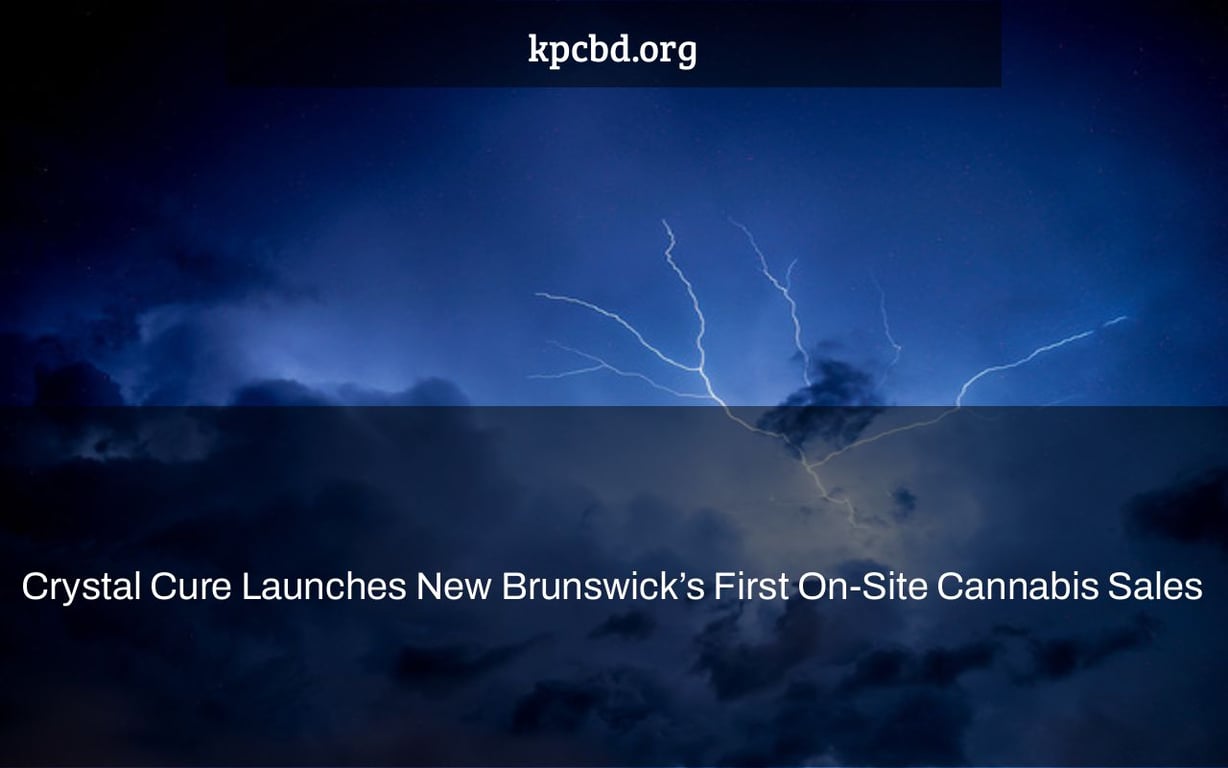 SHEDIAC CAPE – CRYSTAL CURE INC. IS THE FIRST CANNABIS PRODUCER IN NEW BRUNSWICK TO OFFER ON-SITE SALES.
Crystal Cure is the first in New Brunswick to implement Cannabis NB's FarmGate program, as well as one of the first in Canada to open an on-site store, according to CEO Jonathan Wilson.
"For us, it's a major thing. The ability to market directly to clients is enormous. It attracts visitors to our property as we upgrade, modernize, and grow to become a fantastic destination," Wilson said.
Crystal Cure's Le Backdoor retail location launched on November 18, and Wilson said the company's first FarmGate customers were its 12-person crew.
Crystal Cure creates smaller amounts of hand-crafted, organically cultivated cannabis, which will be marketed as flowers and pre-rolled joints via its FarmGate shop.
Cannabis NB unveiled the FarmGate initiative in August, which permits licensed cannabis growers to sell their own goods at their own locations. Ontario is the only other jurisdiction having a cannabis FarmGate program, apart from New Brunswick.
Because of its size of manufacturing, Wilson said being able to sell on-site is very advantageous to Crystal Cure, which also distributes its goods via Cannabis NB storefronts around the province.
"We're continuously trying new things, and [FarmGate] allows us to offer those things directly to people, similar to what you'd see at a craft brewery," Wilson said.
"A large portion of our personnel hails from the beverage-alcohol business, and we've borrowed concepts from them." And being able to monetise our modest output in this way is fantastic."
In the context of Crystal Cure's activities, small batches vary from a kilogram and a half to 10 or 50 kilos of cannabis.
Crystal Cure was first in line to establish a FarmGate, according to Wilson, since it followed all federal and provincial rules and had permits for cultivation, processing, and sales ready to apply when the time came.
"Because we're a tiny manufacturer with all the permits of a bigger corporation, we were able to get it done so rapidly." We know it's heavily regulated, so being up to date on the legislation and the laws that follow is critical," he added.
A Significant Expansion Is On The Horizon
The inauguration of Le Backdoor comes six to eight months before a fifty-fold growth of Crystal Cure, according to Wilson. This will need the construction of a 60,000-square-foot facility as well as a 50,000-square-foot hybrid greenhouse.
When the firm was working on its licensing, Wilson said the first building was a smaller model of a full-sized manufacturing plant constructed to fulfill regulatory criteria.
There are also plans to introduce oils and delicacies to Le Backdoor, but Wilson highlighted that FarmGate is still in the trial stage, so he's walking carefully and keeping its FarmGate retail small-scale. Wilson wants to see how things go before committing to a more permanent on-site retail strategy that includes brand building.
"We want to congratulate Cannabis New Brunswick for being forward-thinking and taking this step, while many governments and provincial authorities continue to say no," he added. "We're attempting to maintain a high level of quality." We're only in three areas for now: New Brunswick, Prince Edward Island, and Saskatchewan, but customers in bigger markets are clamoring for our goods."
Crystal Cure has a partnership with Golden Peak Cannabis, according to Wilson, in which Golden Peak will use Crystal Cure's organic soil to grow in its Dieppe-based facility, and Crystal Cure will purchase, package, and sell the product from its FarmGate store.
"They don't have the same license as us," Wilson said, "but we operate side by side with them."
Crystal Cure's 48-acre footprint also contains a worm farm, a facility where it manufactures organic soil, organic vegetable plots, and fields where it grows cows and chickens, in addition to cannabis.
Hiroshi Kosako and Kenneth Robichaud launched Crystal Cure in 2016. After utilizing medical cannabis oil to cure his pancreatic illness, Kosako, who is also the CEO of Gourmet Chef Packers in Shediac, discovered his enthusiasm for cannabis production.
Crystal Cure's master cultivator, Robichaud, is responsible for the company's unique certified organic soil. Synthetic pesticides, herbicides, and fertilizers are not used in the certified organic soil, which is made up of 20 distinct substances.
Watch This Video-